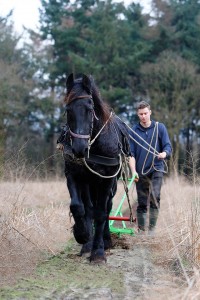 In short
In 2015 Jelmer Albada started with growing asparagus on the farm land of the "Graasboerderij", which is a biodynamic dairy farm in the Frisian town Sondel. Before that he travelled to many different places on the world to gain experience. Like to the Amish in United States of America. And to vegetable farms in Europe, the USA, Peru, Ecuador and Colombia. Now he's back shooting root in Gaasterland among with the asparagus and other.
Jelmer's asparagus is grown on a, certified organic, resilient farming way. Which mirrors in a tasty new local vegetable in Gaasterland.
Here a longer story
With a heart for agriculture and Gaasterland… and a passion for innovation.
On the "Elfstedentocht" ("Eleven city tour", a long ice skating traditional tour in between which only occurs when we have ice in our canal) I was born in the eighties on a dairy farm in the village of Harich. My parents then milked about eighty cows. This farm lies nowadays in the village of Balk and is the place where my brother has a beautiful modern dairy farm.
Having followed several schools, the agriculture related educations appealed to me the most. The conventional as well as the biodynamic side. Agriculture I find a beauty and both sides of these "cultures" is what I experienced. On the biodynamic school in the Netherlands called Warmonderhof I experienced a beautiful and learningful time. Gardening and vegetable (crop) growing appealed me allot.
This growing interest of agriculture led to the purchase of many literature. Many old gardening and agricultural books I red thoughtfully. But of course also so modern books. And still I joyfully grab such a book to read.
My interest is mainly by growing vegetables. Reading and working along I came in touch with the many handwork involving and which was involved with such. A bit of gardening history, the many work that was done by hand and the specific hand tools that went along with it. With many direct contact (hand work) the vegetable plants where seeded, planted, nurtured and harvested. Then the topic soil management, a world on its own what I wanted to know and understand.
When I was at Warmonderhof I had a practical experience at a herb farm called "Het Blauwe Huis". My interest for herbs brought me there and it was there where I came in touch with working with horses in agriculture. As to being used to driving tractors, this was something quite new. No steering wheel in your hands or a brake. With the lines and your voice you steer the horse. Though the experienced animal (a Brabant horse) let me work with him and by doing I learned more. There emerged an new interest for me to deepen into.
These interest in agricultural history lie close to Frisian culture I grew up in. This culture with its own working methods, language and phrasing is what I also made my own. A logical step was then to also join the Frisian club for historical agriculture, the AFRON.
The soil and her many different crops is also where I look and work with, with interest. On and in different soil types is where I may have worked in. Each having its own way to work with, character and handling. By working and learning how a crop grows and how its harvested is a joy for me. And eating it of course too.
At a certain moment came the curiosity and the opportunity to look further than the countries border. Together with a good friend I travelled to the Amish in United States of America. The Amish farmers use mainly a horse to pull their wagons and implements. This set the scale on the seizes of their farms. (with a horse you can do a certain amount of work on a day, smaller when compared to tractor). It makes their communities small and lively strong connected. A farrier, a person to make wagons, a harness maker which creates mutual connections. To may have visit the Amish was a great. The wheel behind the horses has always rolled along there and so have the implements. Which was beautiful to discover and also how the Amish stand in live and their friendship.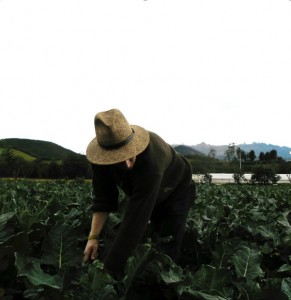 After this adventure I stepped into the next, namely South America. In Peru, Ecuador and Colombia travelled and got to know different farms. Mainly crop growing farms. Also here it was a beauty to see the landscape, people and learning the cultural differences and learning the language.
Next I got the opportunity to work a year in the United States of America at Roxbury Farm. A beautiful well organised organic farm with vegetables and beef cows. Their vegetables are sold through CSA (Community Supported Agriculture). They deliver in the harvest season 1300 vegetables bags directly off the farm to the consumer (members). The farm was founded by a farmer who went to the biodynamic Warmonderhof school in the Netherlands. It was a rich experience to work on the farm.
For a little while I looked into tree care, but in short time the vegetables was where I continued working in. At that time I saw for my doing a lot of the world and wanted to work in Friesland again. So I came to work near a town called Pietersbierum on the clay soil at farm mts. Nieuweboer Timmerman. This organic vegetable farm is specialized in cauliflower. Over there, there was no view on mountains or hill, though… the sea dike. It was a joy to be back working on Friesian soil. Though quite still a drive from my Gaasteland. Though it was there, while working in the cauliflower where Jetske and I met, which was the start of our relationship.
In Gaasterland, the region where I grew up, a farming couple offered me to borrow land from them. This was the farm Graasboerderij, a biodynamic dairy farm in the town I live. Though I was traveling and working abroad allot. When I worked in th cauliflower I looked at that farm land again. Orientating I came to the idea to grow asparagus there. It fits the soil and I find the vegetable to be beautiful. Go and try to grow it? I did. For me it is a joy to practice my passions in this old region Gaasterland.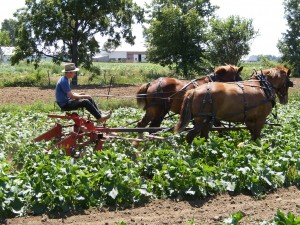 With the help of the cauliflower farm I started to make the field for the asparagus ready. In between the cauliflower harvests, the asparagus where planted (with a great group of volunteers. The first year the biannually asparagus crop does not give a harvest. Then there came a shift in work and I could get a job in my region Gaasterland. This saved traveling and bit by bit I came more and more back to Gaasterland. Now I'm shooting root along with the asparagus.
Workwise I now work closely to the asparagus patch, this at tree nursery Eppinga in the town of Nijemirdum. And there I get to learn the world tree cultivation, mainly dogwoods (Cornus) are cultivated there. Next to my work at the tree nursery I rent a piece of land of a biodynamic dairy farm called "Graasboerderij". On that land is where I grow the asparagus, which is the main crop, next to that I grow a few side crops. The will to grow is there. It's a beauty the make steps in this beautiful region Gaasterland. And to mirror and relfext on this manner my experience in the asparagus and continue learning.
Locally marketing vegetables is a joy to me, which is how al product of Gaast'sperges are sold. I would mind it allot when my asparagus would disappear by bulk in ananonymity. That is why the Gaast'sperge vegetables are locally marketed. And that is why the farms name is on the product. Gaast'sperges, her region, farmer and work method are for a part here to read and see on the website. It a part of identity which takes and makes part of our tasteful products.